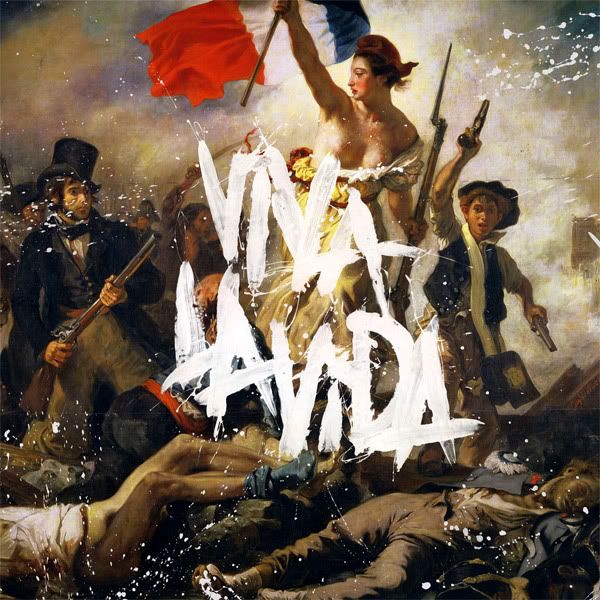 Con un álbum cargado de reminiscencias a trabajos pasados de
U2
y matices completamente distintos de aquellos a los que ya nos había acostumbrado,
COLDPLAY
ha colocado su primer número uno en la lista de sencillos de
BILLBOARD
. Esto, no quedando al margen de la polémica desatada hace pocos días por el grupo estadounidense
CREAKY BOARDS
luego de afirmar que
VIVA LA VIDA
era resultado de un plagio. Según algunas fuentes, la acusación fue retirada, sin embargo, el video donde el vocalista de
CREAKY BOARDS
se pronuncia al respecto, sigue presente en
YOUTUBE
.
Lo que sí es cierto, es que el estilo de
COLDPLAY
varió sustancialmente. Seguramente, parte de esto como consecuencia de los cambios en el equipo de producción.
KEN NELSON
, quien tuvo esa área a su cargo desde el lanzamiento de
PARACHUTES
, fue sustituido por
MARK (MARKUS) DRAVS, RIK SIMPSON, JON HOPKINS
y el emblemático
BRIAN ENO.
DRAVS
ha trabajado en varias ocasiones con
BRIAN ENO
, así como con BJORK, PETER GABRIEL, DEPECHE MODE y JAMES.
SIMPSON
, por su parte, ha colaborado con BLONDIE, PORTISHEAD, LISA STANSFIELD y SOPHIE ELLIS-BEXTOR. En cuanto a
BRIAN ENO
, quien niega describirse a si mismo como un músico, podemos decir que por más de treinta años ha sido un elemento clave en el rock. Además de sus propios lanzamientos, ha enriquecido los trabajos de otros importantes artistas, entre los que encontramos a GENESIS, DAVID BOWIE, CAMEL, TALKING HEADS, DARYL HALL, THE RAMONES, U2, y ICEHOUSE, entre muchos otros.
El cuarteto de productores lo completa
JON HOPKINS
, quien inicia su trayectoria con compilados de música ambiental y de discoteca a principios de la década.
Volviendo al segundo sencillo de

VIVA LA VIDA OR DEATH AND ALL HIS FRIENDS

, hay que destacar varios aspectos:
El primero, marcar el retorno de las bandas británicas a la casilla de honor de
BILLBOARD
en más de una década y el retorno de las agrupaciones de rock de esa región en veinte años. Fue en
1997
cuando las
SPICE GIRLS
colocaron
WANNABE
(4 semanas en la cima) y en
1988
cuando
DEF LEPPARD
situó
LOVE BITES
(1 semana).
Por otro lado, su interesante desempeño en el listado luego de su debut en el puesto 15, su caida al número 41 y su magnífica recuperación para conquistar la cima en su sexta semana de participación.
VIVA LA VIDA
, seleccionado como el segundo sencillo del más reciente álbum de
COLDPLAY
, ha superado a todos los anteriores en los Estados Unidos, incluyendo a
SPEED OF SOUND
(Puesto 8) y
CLOCKS
(Puesto 29) y al primer lanzamiento del 2008,
VIOLET HILL
(Puesto 40), que fuera puesto a disposición del público como descarga gratuita desde su sitio oficial por tiempo limitado.
De momento,
X&Y
ha sido el trabajo más reconocido de la banda, debutando en el
TOP 200
de
ALBUMS
de
BILLBOARD
con
737,000
copias vendidas en su primera semana y sitúandose en la primera posición en casi una veintena de países.
¿Será que
VIVA LA VIDA OR DEATH AND ALL HIS FRIENDS
podrá superar esa marca? Reitero que el sonido de
COLDPLAY
en el mismo es muy diferente de lo que previamente nos había presentado, pero habrá que ver si el público en general lo abraza con la misma pasión que en sus anteriores producciones.
A continuación, una pequeña selección de videos de
COLDPLAY
correspondientes a los sencillos más exitosos que han tenido en los Estados Unidos y, en un segundo reproductor, la "denuncia" de plagio presentada por el lider de los
CREAKY BOARDS
.